The festival goes online this year
Words and Illustration by MC Galang
About 600 miles south of Tokyo you'll find one of Japan's brewing underground music cities, Fukuoka. It is home to "Mentai Rock": a larger-than-life, high-octane punk and rock movement that made Sheena & The Rokkets and The Roosters household names in Japan in the late '70s, which eventually encompassed a wider variety of influences like jazz and funk, among others.
Fukuoka's embrace of genre diversity made it appealing to the more adventurous fans who lamented the monotony of other major music cities in the country. In an interview with The Japan Times, Shuichi Inoue, one of Fukuoka's leading music figures, posits that its smaller music scene allows for discovery and the exciting unpredictability of musicians compared to the more homogeneous lineups promoted elsewhere. "Sometimes in Tokyo it's a bit like that… You'll be at a show and all the bands are the same BPM, just one after the other. That kind of atmosphere really doesn't work for me. I like there to be more variation."
The annual music showcase and conference festival Fukuoka Asian Picks acts on this premise: to raise global consciousness by using its high geographical advantage and thriving music scene. Unlike many parts of Japan, Fukuoka is not as seismically active, which prompted the steady rise of local migration to the city. It is also closer to Seoul than it is to Tokyo, which makes it a strategic location—a gateway to the rest of the region—for musicians interested in touring, to begin with.
The showcase and conference festival, like many independently produced festivals of the same kind, is run by a small team whose goal is to connect local musicians with organizations and persons in the Asian music industry to explore opportunities: to work together as much as it is to introduce Japanese and regional talent to the local audience. However, border restrictions and general safety and health concerns made the organizers shift to a virtual edition this year: its first since 2017. It will also feature its first Filipino artist, All of the Noise 2019 Feature Act Pikoy. The festival will be livestreamed online on September 12 and 13, with the timetable and platform due to be announced soon.
The Rest Is Noise spoke with Fukuoka Asian Picks' Kohei Saito via Zoom to talk about what's in store for this year's edition. We met earlier this year at the Trans Asia Music Meeting in Okinawa just before the borders closed and have caught up with each other since. The Rest Is Noise is the official Philippine media partner for the event.
This interview has been lightly edited for clarity.
Can you share with us the scope of work you do for Fukuoka Asian Picks?
Fukuoka Asian Picks is organized by a small team of people. It's very important for me to decide the direction of the project with my colleagues and meet wonderful Asian musicians and people in the music industry. I would also like to connect Japanese and other Asian cultures through musicians and creators.
Run us through a brief history of the festival: how did it start, what are its goals locally and internationally, what are its main activities, and what kind of support does it receive from the Japanese government or other places, if applicable?
Our team has been holding live events to invite Asian musicians to Fukuoka for a long time, but Fukuoka Asian Picks itself was launched in 2017. Its theme is "Asia's Music Scene and the Future of Fukuoka," which aims to introduce new artists from Asia. We also have a conference to learn about the music markets and trends in Asia, a network to connect with the music industry of each country in it, as well as a music market event that will help with the future of musicians and creators.
It's a little special compared to the [festivals happening in the] rest of Japan. This is because the Japanese music industry is more localized, and I thought it was necessary to create a music collaboration with foreign artists and musicians and forge new values, so I started this event. From now on, I would like Fukuoka to function as a hub for the Asian music industry in Japan. The event is in partnership with domestic and international festivals and media. The government is cooperating with public relations work.
Can you describe the Fukuoka music scene and why do you feel it needs to be represented? What are its differences and similarities from other cities or places in Japan?
Fukuoka is a very unique place in the country. In Japan, many people move to Fukuoka because of various reasons, such as avoiding major earthquakes. It's a very comfortable place to live in and has delicious food!  There are many talented artists and musicians, and artists who are highly creative and rich in individuality are growing. The city's getting a lot of attention all over the country. And as a gateway to Asia, we have a geographical advantage, so we would like to collaborate not only with Japan but also with other Asian countries.
With COVID-19 restricting the borders and making large-scale physical events in many places around the world impossible and a health and safety risk, what were the steps you took to transition the festival virtually this year and what were your main challenges and benefits?
Since Asian Picks originally showcases live performances and conferences of foreign artists, I think it has a high affinity online. Though it is difficult to hold real events right now, I am thinking positively about holding them online. I think it's important to be mindful about the presentation and event composition that are unique to online shows.
How will the program: music performances, conference, and other elements play out this year?
Aside from live-streaming performances of the artists, we're also introducing music videos of artists recommended by curators from Asian countries. In addition, we're also considering holding a meet-up party online for everyone to participate in.
How did you select this year's performers?
They are artists that we thought were wonderful to look into independently and curators from all over the world recommended to us. As much as I would like to introduce more people, the number of artists we can introduce every year is limited.
Pikoy, I believe, is the first Filipino musician to participate. What made you decide to include the Philippines this year and what were your considerations on picking her?
Yes! The Philippines [already] has a strong image of pop music, but [she] looked unique and appealing as an international artist. I also thought I could get a reaction from the Japanese market.
You are also presenting music videos of four more Filipino artists at the festival: UDD, Jason Dhakal, Jess Connelly, and Oh, Flamingo! Thank you for allowing us to curate it! What made you introduce this program segment this year?
While we're mainly choosing the artists who'll make it to the event lineup and think they're wonderful, we would like to incorporate not only our sensibilities but also the opinions of music industry collaborators from all over the world.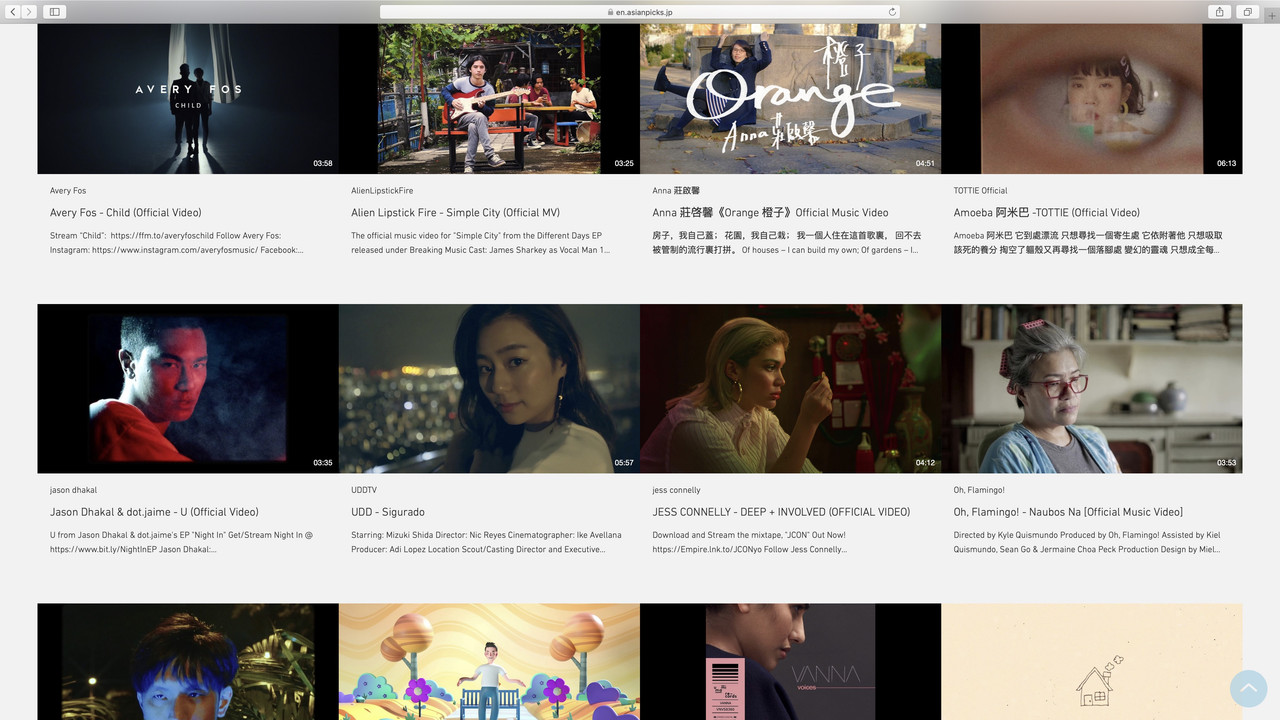 Once the health crisis is abated, what are your foremost plans?
We would like to continue the online event next year. My dream is to hold the festival in other Asian countries as well. I hope to see you, our friends, again someday. I hope that you and your loved ones are healthy and safe. Thank you very much.
Fukuoka Asian Picks 2020 happens virtually on September 12 and 13. Visit their website for more information.
Stream Pikoy's performance on the festival's official YouTube channel at 2:20 PM PHT (3:20 PM JPT) and check out our selection of Filipino music videos which will screen before her performance at 2:00 PM. View the full weekend schedule here.